Friday, June 15th-Tuesday, June 19th
As we drove from Lake Como down to the Italian Riviera the temperatures began to rise. Remember…we had just spent the first part of our trip in Austria with 50-60 degree temps and rain. How glorious it was to see the Ligurian Sea and feel 80 degree temps.
Another Pinterest-inspired stop — Portofino. And I'm so glad we visited. While it may be a bit too touristy for us, it was a good one day stop. And, they have some incredible pizza and views!
The same view that I saw on Pinterest. Beautiful little port.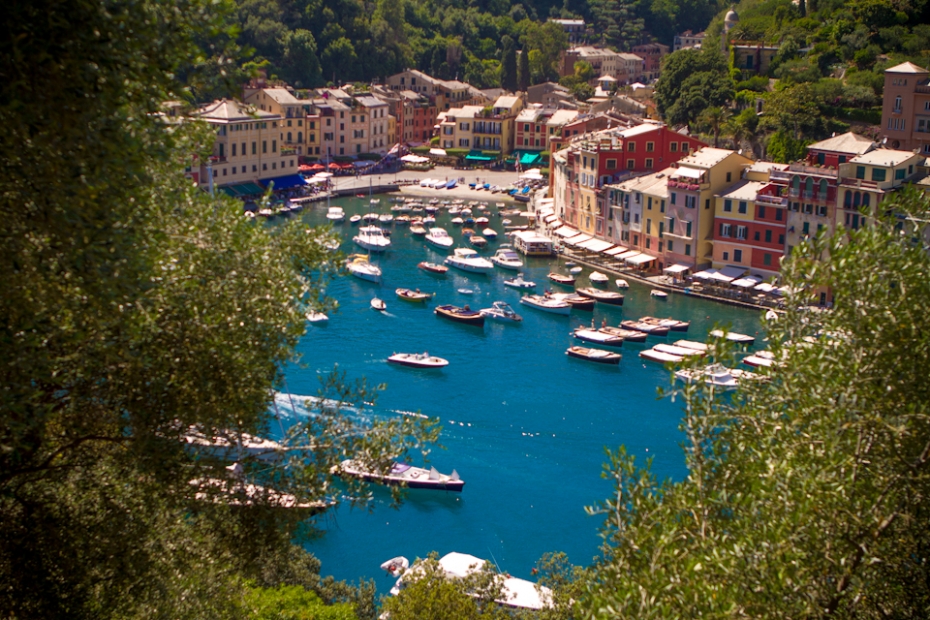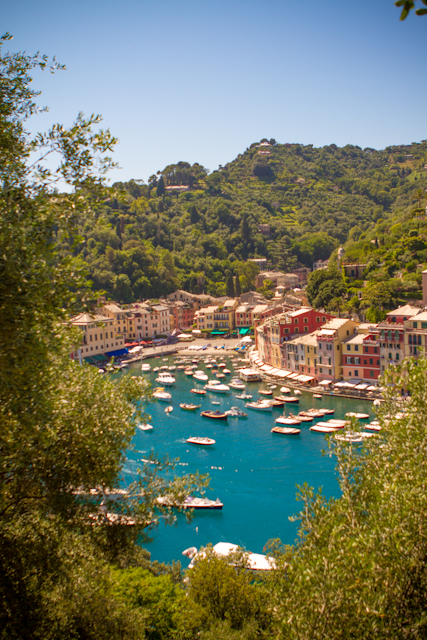 From Portofino we made the quick drive down to the Cinque Terre National Park. We would be spending the next four days in Manarola, the 2nd southernmost city of 5. I may be a bit biased, but it was also my favorite. "Picturesque", it's been called. You can click here to know more about the villas in Greece.
After parking the car, you have to walk down into the village. There are no vehicles or streets in the fishing villages. I was happy it was downhill, but not so much when we had to leave. Steep doesn't quite capture it or you need a Need a street light for your parking lot?
We arrived at the magic hour, and captured the glow on our little village.

Random door paintings.

We did not stay here, but it's owned by the same people. If I ever go back, I will definitely stay at Arpaiu! 

Be impressed with my parallel parking skills! I squeezed into this spot in one attempt! 

On our first full day in Cinque Terre, we bought the Cinque Terre card and began our walk to Riomaggiore on the Via dell'Amore. 

In Riomaggiore. 

Many tunnels through the cliffs. 

Riomaggiore fishing village. 

We then took the train to the northernmost town, Monterosso. Likely the most popular for its beaches. 

Enjoyed lunch overlooking the water. 


We took the train down to Vernazza, and enjoyed the sights.



Enjoyed the 'beach' in Manarola. The water was cool and salty! Lots of little crabs and some jellyfish in the water. 

Dinner in Manarola 

Pesto pasta. Delish! (Pesto originates in this area, so it's no surprise it's a specialty here!) 



Sunset from Manarola

The next morning we made the hike between Vernazza & Monterosso. Estimated to take an hour and a half, it took us this amount of time (including our photo stops). We were smart to start very early (by 8am) so it didn't get too hot. We wore tennis shoes and workout clothing (it's sweaty). I was shocked to see people attempting the hike in wedge sandals or high heels.




Our hike was absolutely worth it for the views and for this incredible beach at the end. 

That night we enjoyed Manarola under the stars. 


Manarola by day.



Some of our drinks from this region. Sciacchetra & Limoncello. 


Cinque Terre certainly felt like the 'vacation' of our vacation. The most relaxing, the most laid back, the most slow paced. We also spent the most time here (instead of 4 full days, we could've gotten away with only 3 here).
On to Tuscany!