Inspired by other bloggers that capture a day or week in the life on a quarterly basis, I'm finally documenting a day in our life.
Saturday, October 10, 2015.
Haven is 11 months old today!
Annika is 32
Matthew is 36
Nike is almost 10, Jordan is 9, Maggie is 12. Chickens are… 5 and under 🙂
Technically, our day started sometime during the night/early morning for one of Haven's nursing sessions. Since we co-sleep, I slept through most of it. She wakes up at 8:15 and gently pulls on my hair to make sure I wake up, too. Lazy or resourceful mom–I use my phone camera to see what she's doing behind me. Also works great for when she's laying in my arms. Who knew my iPhone camera would be a built in mirror?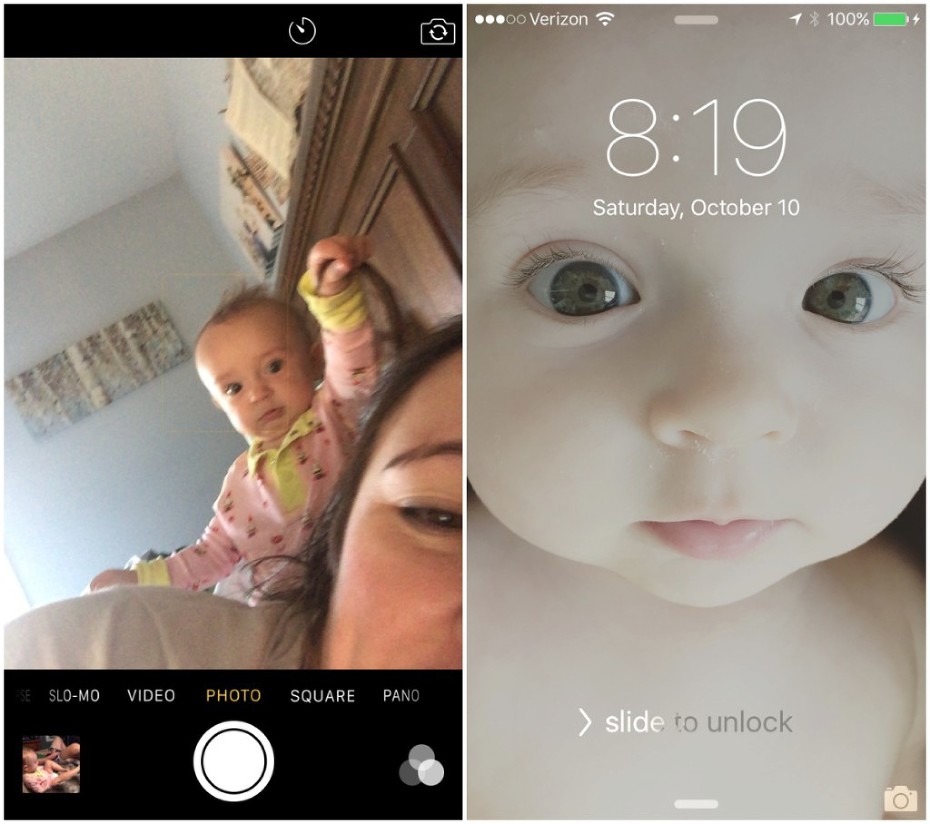 True to her style, Haven is awake but just wants to eat and take her morning nap..or so I think. She nurses and nearly falls back asleep, but fights her nap. While she nurses, I check my email, make a birthday wish list for Haven, and figure out the boot situation for winter. Do 1 year olds wear boots in the winter? Also realize we need to weigh and measure Haven this morning, so pull up my stats from when I was a baby. Will Haven top 16 lbs by 11 months? Nope–she's enjoying the 15 lb zone for another month.
9:00am-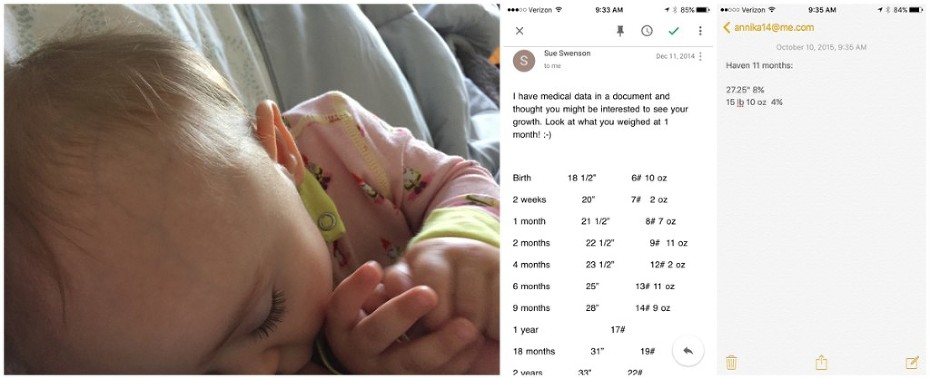 I change Haven's diaper on the bed, get her undressed (her favorite–she dislikes clothing), and then bring her downstairs. Her current favorite toys are her dancing robot, the stairs (climbing up them), and creating a tornado of toys wherever she goes. Nike, Jordan and Maggie find slivers of sunlight to lay in, and Nike chases a fly that landed on her tail. Matthew is half asleep still.
9:40-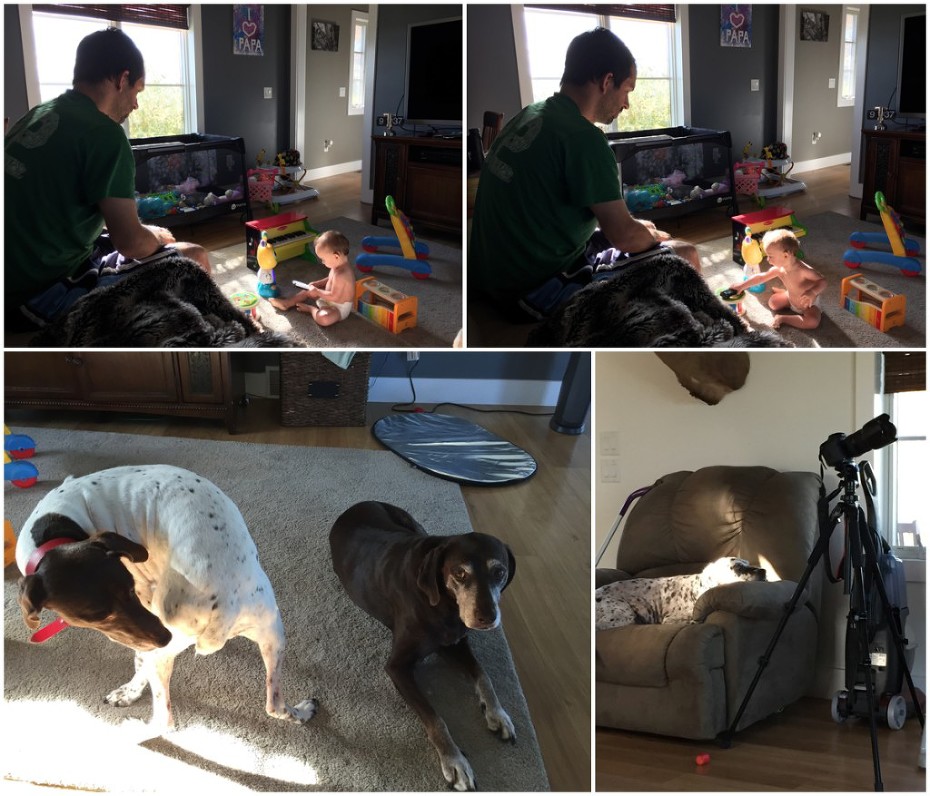 We eat oatmeal for breakfast–Haven and I share. While we're eating, Matthew sweeps, picks up toys, and does the dishes. Good husband. 🙂
10:40am: I head upstairs to take a bath, and Haven joins me once I'm cleaned up. I think in her 11 months, she's taken maybe 3 baths on her own. Co-bathing is our fav.

After bath time, we lay in bed and try to take her morning nap that has now turned into a late morning nap. I read this article as she nurses to sleep and I silently cry and hug her a little closer. I always knew I would breastfeed, I just never realized the profound bond it would create between us. Matthew comes up to bed, too. She falls asleep and I sneak out of the room with her and Matthew in bed still. I pick up in her room as we'll be doing her 11 month photos as soon as she wakes up.
1:11 pm: She's awake but she didn't nap well–fighting her sleep if I got out of bed. Photos should be interesting…we'll see if we can get any smiles.
Photos go well as long as the month sticker isn't on her dress.









1:50pm: Photos are done and we get ready to head out on Blackhawk Lake with Ron & Mary in their new tandem kayak. I dress Haven in her new socks that fit like tights and her new zara baby tennies.

2:45pm : Out on Blackhawk Lake–beautiful fall day. Upper 60s with a breeze. Haven napped on the drive over but is still staring off into space so she nurses and naps a bit on me.

4:45pm: We enjoyed lunch, eagle watching, and watching Haven play with a bag of chips that she really wanted to throw overboard! A few snuggles from grandma and we were heading home.

5:30pm: Haven falls asleep on our drive home (she loves car rides and will nap for over 2 hours in the car). We decide to get Chinese takeout for dinner as it's getting late and I'm not sure what I'd make at home. We grab food from Dodgeville and head home. I always love the drive to our house–I will never tire of the Driftless views and hills. We check our mail, in the mailbox that we won't fix because as soon as we do, it'll be smashed again.

6pm: Sit down just in time to watch the end of the Badger game. We win! Eat dinner while the dogs beg for some.

6:30pm: I sit down to start editing Haven's 11 month photos and notice the beautiful orange glow coming inside. Run out onto the deck to snap a photo.

6:36-6:45pm: Sitting at the computer I can see the sunset start to change–so I document as it gets better and better.

7:30-8:30pm: Matthew takes a nap (he has an allergy headache from being outside) and Haven tries to escape up the stairs. Around 8:30 Haven starts rubbing her eyes and we bring her up to bed. Change diaper, put on pajamas, and we all snuggle into bed. Haven nurses to sleep as Matthew and I talk. Matthew heads downstairs to play xbox360 Destiny and I lay in bed reading the news, blogs, Facebook, instagram. I drift off to sleep around 10–I'm awoken around 11 something for a random nursing session, and Haven quickly falls asleep until the next early morning session (that I sleep through again).

You can find me on instagram at: annikams