In mid January 2010, I wrote my name on a sheet of paper. Above and below my name on the list were colleagues, friends…who were all moved by the stories we had heard earlier at our corporate event. Stories about overcoming adversity. Overcoming health issues. Overcoming stigmas. Overcoming their own thoughts. These people went on to bike 100 miles around Lake Tahoe with Team In Training–raising funds for the Leukemia and Lymphoma Society. Team Novartis. In that moment, as I wrote my name–I wasn't sure what I had signed up for. What am I getting myself into? Can I really do this?
Three years later and writing my name on that list has had such a lasting impact. If it weren't for that list–I wouldn't have met the man of the hour. Coach and Mentor Dano.
Now, before I go on and share what Dano has done…I need to say this. Dano may not realize this, but he was my version of emotionally focused therapy, as I began my journey with TNT. Over dinner at the Great Dane, we talked fundraising strategy, training and technique, and his enthusiasm and optimism oozed out of him. He was likely the most energetic and positive person I had ever seen. And he lived his life with ambition. Man of the Year for LLS. Ironman finisher. While these things could've gone to his head, he was still humble and helpful–helping out this newbie navigate an endurance event.
A part of me is so excited to share this news with all of you…because you get to have your own Dano in your pocket–because HE WROTE A BOOK! A book about triathlons, endurance events, marathons–but truly, so much more. Finding the meaning in your life and your training. Clarity. Purpose. Motivation.
I couldn't be more proud of Dano, and I'm ever so thankful I wrote my name on that sheet of paper in 2010. Small actions, people. You just never know where they'll take you.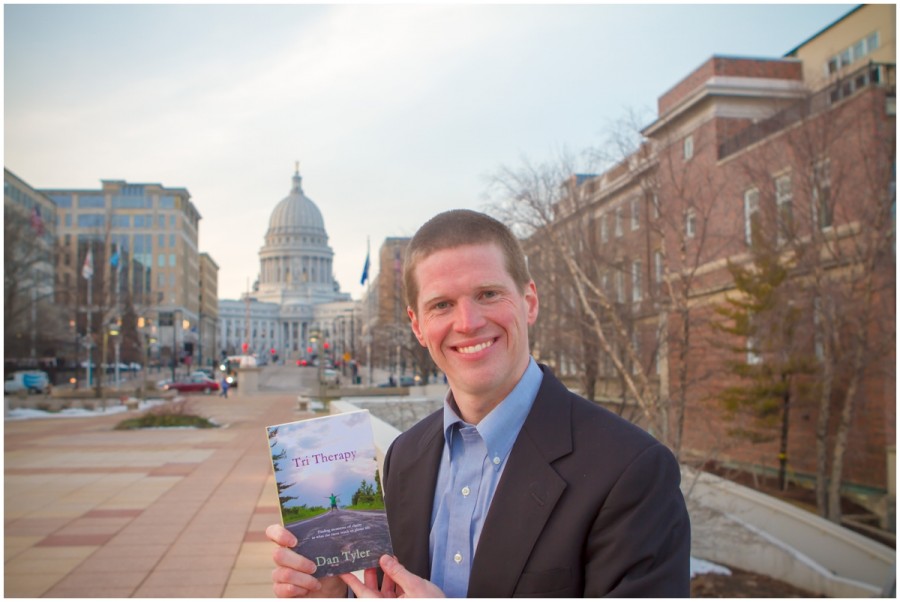 Dano's book, Tri Therapy: Finding moments of clarity in what the races teach us about life, is now for sale on amazon.com
"Tri Therapy is a memoir of venturing into long-distance running and triathlon, and discovering truths within the race microcosm that translate into the tenets of a healthy, compassionate life. Its chapters include reports from races like the 2,500th anniversary of the original Marathon in Greece and the 140.6-mile Ironman Triathlon, framed with essays digesting what "sport" stands for."
Book cover courtesy of yours truly, taken on my birthday, in fact. You can read more about Dano here: Coach Dano's Music Video and at his website, TriTherapy.org.