It's no secret that I adore all things Apple. I've been a life long user…addict, really. No need to convert me. I'm loyal til the end.
I've gone through the Blueberry iBook clamshell in high school, the PowerBook G4 when I graduated high school and took me all through college and into grad school, and when that finally died after 7 years I went with the MacBook Pro.
I've had the old school iPod, a newer iPod, an iPod touch, the first, second and now 3GS iPhone. I'm still crossing my fingers for the iPhone contract to go to Verizon so I can upgrade my phone and contract.
For my photography business I would love to have a heavy duty desktop, like the 8-core Mac Pro. But, I just can't justify that much computer just yet, so I'll probably settle for the quad-core iMac. Either way, this house will eventually be overflowing with Apple technology.
Oh and….if you are a student or work in the school system (K-12 all the way up through Graduate Schools), you can take advantage of the Education Discount. Since I'll be graduating this May I plan on making my big purchases by then! Oh giddiness! 🙂
Okay, so let's get to the point Annika…you clearly love Apple…
I've recently come across some (new to me) apps that I'm addicted to.
While I don't know if these will work on all iPods (older versions or touch), these apps work on the iPhone 3GS (& very likely iPhone 4).
1. Sleep Cycle alarm clock ($0.99)
Description: " The Sleep Cycle alarm clock is a bio-alarm clock that analyzes your sleep patterns and wakes you when you are in the lightest sleep phase. Waking up in the lightest sleep phase feels like waking without an alarm clock – it is a natural way to wake up where you feel rested and relaxed."
My Review: I've been using this app for the past 132 nights and truly feel more rested when I wake up in the morning. The sensor in the iPhone measures my body movement and can tell when I'm slipping back into a deep sleep. The alarm knows just the right time to wake me, and it has the most pleasant sounds to wake up to. I've also learned that my body is on a natural cycle to wake up after sleeping for exactly 7 hr 47 min (without an alarm this is what my body defaults to). Combining physiology with technology is cool. 🙂
2. Angry Birds ($0.99)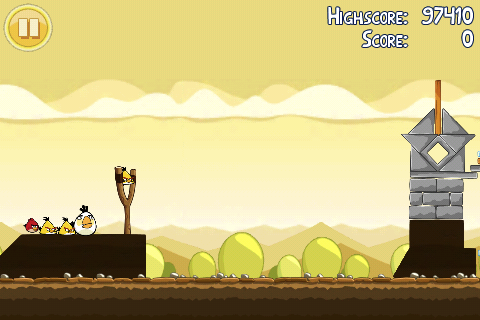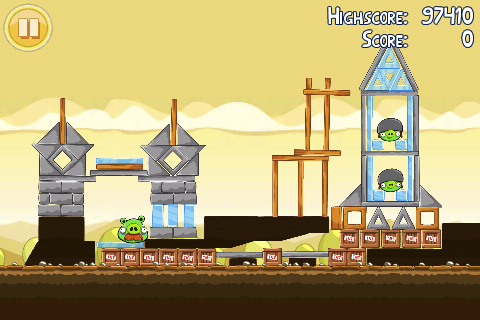 Description: "The survival of the Angry Birds is at stake. Dish out revenge on the green pigs who stole the Birds' eggs. Use the unique destructive powers of the Angry Birds to lay waste to the pigs' fortified castles. Angry Birds features hours of gameplay, challenging physics-based castle demolition, and lots of replay value. Each of the 120 levels requires logic, skill, and brute force to crush the enemy."
My Review: A highly addictive, logic, mind game. Honestly, I had to youtube a few of the levels to figure out how in the world to beat it. It's tough!
3. Cut the Rope ($0.99)

Description: "The ingenious game combines physics oriented gameplay with bright and colorful visuals in deviously designed challenges. A range of obstacles and pesky enemies provide an almost infinite number of solutions to discover."
My Review: A new fav since I beat Angry Birds and needed something new to keep my brain sharp. This one is a challenge though. You have to be quick, good with physics, geometry and spatial reasoning.
4. Pandora Radio (Free)

Description: "With Pandora you can explore this vast trove of music to your heart's content. Just drop the name of one of your favorite songs or artists into Pandora and let the Genome Project go. It will quickly scan its entire world of analyzed music, almost a century of popular recordings – new and old, well known and completely obscure – to find songs with interesting musical similarities to your choice. Then sit back and enjoy as it creates a listening experience full of current and soon-to-be favorite songs for you."
My Review: What I love about this app is that I can play it while my iPhone is SYNCed with my car. Definitely helps during my long drives.
5. Netflix (Free)

Description:  "Just download the free Netflix app and you can instantly watch TV shows and movies streaming from Netflix.
Watch instantly via WiFi or 3G** connection
Resume watching where you left off on your TV or computer
Browse and search right from the device
* The Netflix app runs on devices running iOS 3.1.3 and newer.
**Streaming over 3G can use a significant amount of data. Contact your service provider regarding your available data plans and charges."
My Review: This comes in so handy when I stay in hotels or can't sleep at night. Just flip to your instant queue and there you go!
6. RedLaser (Free)

Description: "RedLaser is a barcode-scanning application for comparison shopping and finding product information using a mobile device. The state-of-the-art barcode scanning technology was created specifically to deal with non-autofocus cameras, and continues to evolve with innovative mobile visual capabilities. The RedLaser application has been downloaded over 4 million times."
My Review: This app rocks! For the frugal shopper that I am, when I come across an item that I think I absolutely need…I whip out my RedLaser and scan it into my phone. The app then analyzes the barcode, tells me what the product is, if I can buy it elsewhere cheaper (and the store where I can buy it) or my online shopping options, as well as prices. LOVE LOVE LOVE this!
7. TGI Black Friday (Free)

Description: "TGI Black Friday is currently the highest rated Black Friday app for the Apple iPhone. The free app allows you to search thousands of Black Friday deals for every major retail store. You can create a personal shopping list and use your iPhone to shop smarter and faster on Black Friday. We are constantly updating the app and expect to have an Android version available soon. We recently updated the iPhone app for 2010 and added some great new features."
My Review: Since this is my first year venturing out for Black Friday I will be using this app to plan ahead. From first glance it looks like it has ads, deals and a spot to make your own shopping list.
8. The Huffington Post (Free)

This is my nightly ritual. Every night I will go through and read my news on here.
These are my fav apps right now, but I'm always on the hunt for more.
Do you have any apps that you love and can't live without?