Remember how last Tuesday I had an open invitation over to my neighboring goat farm?
Guess where I spent Wednesday night?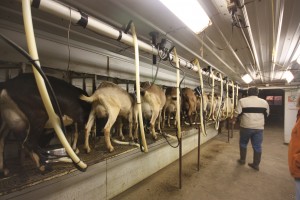 In a goat milking parlour, of course.
I met about 100 goats and saw a couple hundred more. I learned more about goats in the 3 hours I was there than I thought possible. I also learned that I have some pretty amazing, hardworking, nice neighbors!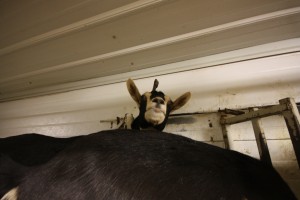 This doe (a female goat) had one horn. She was cute. 🙂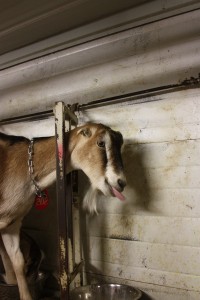 This is a LaMancha goat. The farm has 4 or 5 different breeds of goat. The LaMancha have small ears.
Other random goat facts I learned:
1. A male goat is called a buck.
2. It can take just a few minutes to finish milking a goat (using a machine).
3. Goats have attitude, personality and sass. Don't mess with goats.
4. Baby goats are called "kids" and it can offend a farmer if you call human children, "kids".
5. A high quality, good breed with "papers" might cost $400 for one goat.
6. On this farm the does wait until the farmers are around to help deliver their kids.
7. A pot of boiling water or a sink full of hot water can revive really cold kids.
8. Not goat related, but it is possible to raise a pig in a house. You might want to kick it out when it gets to be 250 lbs. Just sayin'
9. Goat farms don't really stink.
10. Kids and piglets are my new favorite.
This past weekend was spent at the family farm in Northern Minnesota. My next post will be dedicated to the weekend and all of the yummy goodness we cooked. If you're lucky…you might even get some of my Grandma Sig's recipes!